With the rise of e-commerce platforms, businesses are no longer restricted to traditional methods of trading. Instead, they have access to a wide range of online marketplaces, which provides them with the ability to reach a global audience, streamline their procurement processes, and grow exponentially.
1. Alibaba: The Asian Giant
This platform is known as one of the world's largest online commerce companies. It's a go-to platform for businesses looking to source products from Asia. Alibaba has revolutionized the way businesses source products.
With its vast network of suppliers, it offers a wide range of products across various categories. Whether you're a startup or an established business, Alibaba provides a platform to find reliable suppliers and manufacturers.
The platform also offers a secure payment system and trade assurance, ensuring that transactions are safe and transparent. With its user-friendly interface, businesses can easily navigate through the platform, connect with suppliers, and place bulk orders.
Alibaba Gold Supplier
This is a premium service offered by Alibaba to help businesses stand out and gain more trust from buyers. Being a Gold Supplier means that the business has been verified by Alibaba and has committed to maintaining a high standard of quality and service.
This membership not only boosts the credibility of the supplier but also offers additional benefits like priority listing and access to buyers from over 190+ countries.
Moreover, Gold Suppliers get access to Alibaba's suite of tools and services, which can help improve their online presence and reach out to more potential buyers. It's an investment that can yield significant returns for businesses looking to establish a strong foothold in the B2B marketplace.
2. Global Sources: The Electronics Hub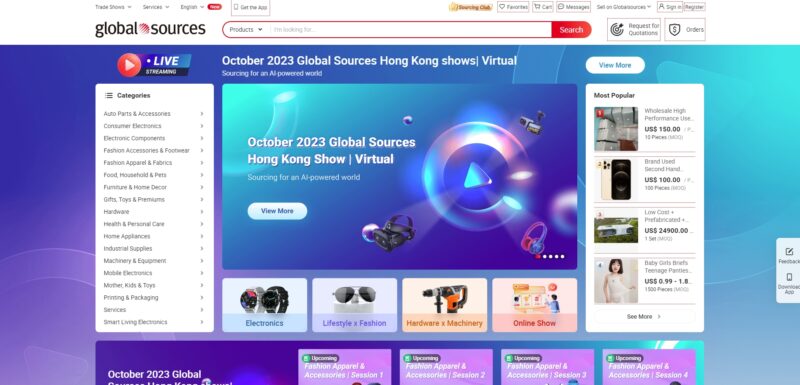 If you are looking for a place where you can secure the most recent tech products in your warehouse, this is one of the best options. They have products from other areas as well, such as clothes and cosmetics.
For businesses in the electronics sector, Global Sources is a goldmine. The platform offers a curated list of suppliers, manufacturers, and exporters specializing in electronics. From the latest gadgets to electronic components, businesses can find a wide range of products to cater to their needs.
Apart from electronics, Global Sources also has a strong presence in the fashion and lifestyle sector. With its rigorous verification process, the platform ensures that only genuine and reliable suppliers are listed, making it easier for businesses to source products without any hassles.
Trade Shows
One of the unique features of Global Sources is its trade shows, which are held in Asia's major cities and offer businesses an opportunity to meet suppliers face-to-face. Attending these trade shows can be a game-changer for businesses.
It provides a platform to network with suppliers, understand the latest trends in the market, and even finalize deals on the spot. These trade shows are not just limited to electronics but cover a wide range of categories, including fashion, gifts, and home products.
Furthermore, these trade shows are also an excellent opportunity for businesses to showcase their products and get feedback from potential buyers. With its focus on innovation and quality, Global Sources ensures that its trade shows offer value to both suppliers and buyers.
3. Kompass: The Business Intelligence
It is not just a B2B platform but also a powerhouse of business intelligence. It offers a unique blend of data services and online marketplace features. Kompass has a vast database that covers businesses from various sectors across the globe.
This platform is particularly beneficial for businesses that rely heavily on data-driven decisions. With its rich insights and analytics, companies can identify potential markets, understand competition, and devise effective strategies.
Moreover, the platform's marketplace feature allows businesses to connect with suppliers, manufacturers, and service providers. With its emphasis on quality and reliability, Kompass ensures that businesses can source products and services with confidence.
Data Solutions
What makes it different from other companies is related to its data solutions, which offer businesses a competitive edge in the market. This option provides businesses with access to detailed company profiles, industry reports, and market analysis.
This wealth of information can be instrumental in understanding market dynamics, identifying potential business partners, and spotting emerging trends.
Furthermore, the platform offers a unique "EasyBusiness" tool, which allows businesses to access and analyze data based on their specific criteria. Whether it's finding suppliers in a particular region or understanding the market size of a specific product, EasyBusiness makes it a simple task.
4. Wholesale Central: The Directory Specialist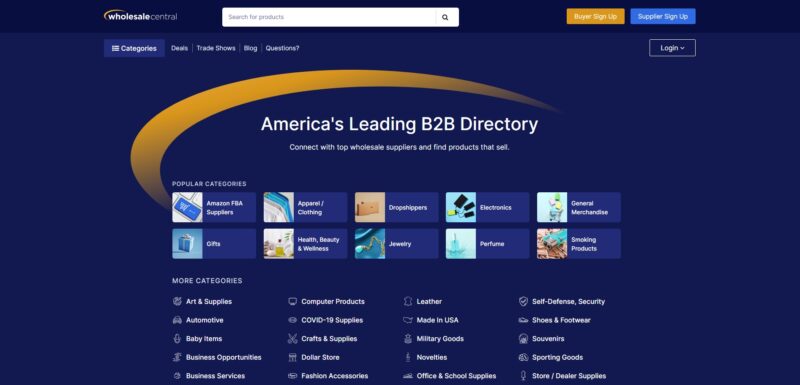 This company is a leading directory of wholesale suppliers, distributors, manufacturers, and importers in the US. Unlike traditional B2B platforms, Wholesale Central operates as a directory, making it easier for businesses to find suppliers based on categories or products.
The platform covers a wide range of industries, from fashion to electronics, ensuring that businesses can find products that align with their needs. The platform also offers tools and resources, like trade shows and market news, to keep businesses updated with the latest trends and developments in the wholesale industry.
Hosted Events
Trade shows are an integral part of the wholesale industry, and Wholesale Central ensures that businesses have access to the latest events and exhibitions. The platform's trade show directory provides a comprehensive list of upcoming trade shows, exhibitions, and events.
This not only helps businesses plan their calendar but also offers an opportunity to network with suppliers, understand market dynamics, and even finalize deals.
Moreover, Wholesale Central also offers a unique "Trade Show Central" feature, where businesses can get detailed information about specific trade shows, including exhibitors, products, and market insights.
5. MFG: The Manufacturing Maestro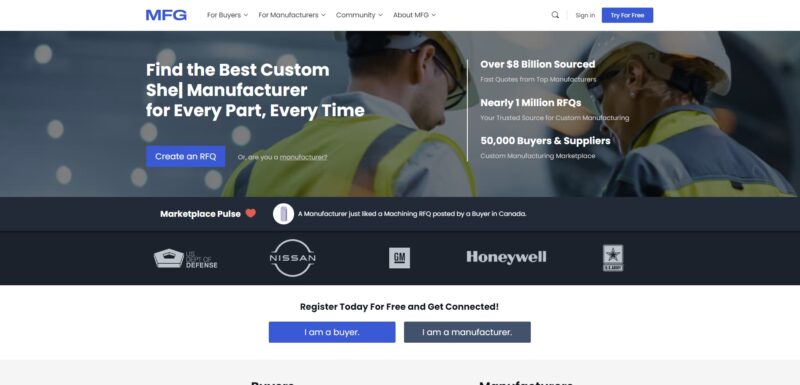 This is another great solution for those who are looking for worldwide suppliers and manufacturers. For businesses that are looking to get products manufactured, MFG is a one-stop solution.
The website covers a wide range of manufacturing processes, from machining to injection molding, ensuring that businesses can find the right manufacturing partner.
With its rigorous verification process, MFG ensures that only credible and reliable manufacturers are listed on the platform. This not only reduces the risk for businesses but also ensures that they get quality products.
RFQ System
The best part about MFG is its RFQ (Request for Quotation) system, which streamlines the sourcing process for businesses. With this system, businesses can post their manufacturing requirements, and MFG's algorithm matches them with suitable manufacturers.
This not only saves time but also ensures that businesses get competitive quotes from multiple manufacturers. Furthermore, the platform offers a unique "MFG Shop", where businesses can view detailed profiles of manufacturers, check their ratings, and even see samples of their work.
This transparency ensures that businesses can make informed decisions and choose the right manufacturing partner.
6. BizVibe: The Networking Prodigy
With its innovative approach to B2B networking, BizVibe is transforming the way businesses connect and engage with each other. It's more than just a sourcing platform; it's a networking hub.
The core lies in its smart matchmaking algorithm. The platform analyzes a business's profile and requirements and then suggests potential partners, suppliers, or clients. This ensures that businesses don't just find any supplier, but the right one that aligns with their needs and values.
Moreover, with its user-friendly interface, businesses can easily navigate through the platform, engage in real-time chats, and even schedule meetings, making the entire networking process seamless.
Analytics Dashboard
Most of these companies are aware of how important the analytics are. Therefore, this one is putting a lot of effort into giving its users the ability to analyze different metrics for accurate results and better strategies.
The dashboard provides businesses with real-time insights into their networking activities. From engagement metrics to response rates, businesses can track and analyze various parameters.
This not only helps in understanding the effectiveness of their networking efforts but also in identifying areas of improvement.
7. eWorldTrade: The Global Connector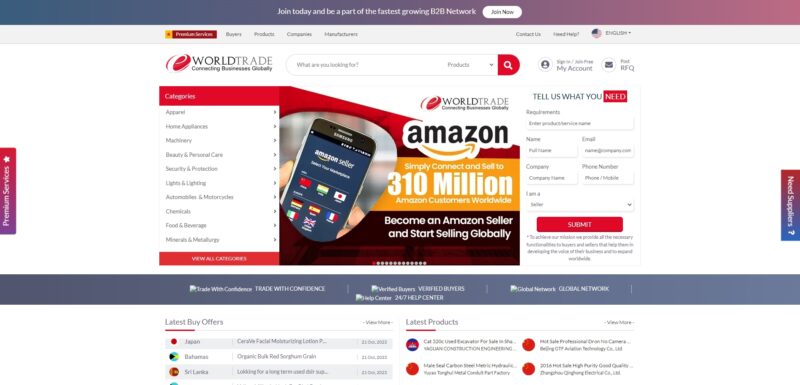 This is a US-based platform that is rapidly emerging as a global B2B powerhouse by connecting businesses from different parts of the world. What sets eWorldTrade apart is its focus on creating a global business community.
The platform not only allows businesses to source products but also offers opportunities for collaboration, partnerships, and joint ventures.  With its vast network of suppliers, manufacturers, and service providers, businesses can explore endless possibilities.
The site also offers value-added services like digital marketing, helping businesses enhance their online presence and reach out to a broader audience.
B2B App
Recognizing the shift towards mobile, eWorldTrade has launched its B2B app, making it easier for businesses to connect on the go. The app offers all the features of the web platform, from searching for products to engaging in real-time chats.
With its simple design and user-friendly interface, businesses can seamlessly navigate through the app, making sourcing and networking simple even for a beginner.
8. EC21: The Korean Dynamo
This is another of Asia's leading B2B platforms that manages to connect businesses with suppliers and manufacturers from across the globe. South Korea, known for its technological prowess and innovative products, offers a plethora of opportunities for businesses.
EC21, with its extensive database, ensures that businesses can tap into the Korean market with ease. The platform also offers tools like trade alerts, helping businesses stay updated with the latest product listings and offers.
With its emphasis on quality and reliability, EC21 ensures a seamless sourcing experience for businesses.
Premium Services
Managing to deal with the diverse needs of the global user base, EC21 offers a range of premium services that can give businesses a competitive edge. They achieve that with the "Global Buyer Directory," which allows businesses to access a curated list of buyers from across the world.
This not only helps in expanding the customer base but also in understanding the demand dynamics of different markets. Another valuable service is the "Trade PRO," a comprehensive solution that offers features like priority listing, dedicated support, and market analysis.
These features ensure that businesses can not only source products effectively but also strategize their market entry and expansion.
9. Made-in-China: Perfect Base of Manufacturers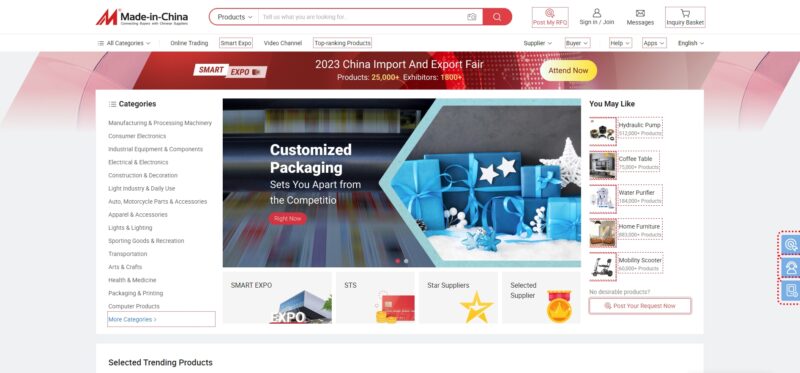 Made-in-China is a very popular B2B platform that connects international buyers with Chinese suppliers and manufacturers. As the name suggests, it's a hub for products manufactured in China.
This country offers a wide array of products across various sectors. Made-in-China simplifies the sourcing process by categorizing suppliers based on their products, certifications, and reliability. The platform has a simple and straightforward verification process that ensures that businesses connect with genuine and credible suppliers.
Furthermore, the platform offers tools like multi-language support and currency converters, making it a truly global platform catering to businesses from different parts of the world.
Sourcing Solutions
Even though there are so many categories available, finding the right one for your needs won't be a problem on this platform. The "Sourcing Request" service is one of the best tools. Businesses can post their product requirements, and the platform's team will connect them with suitable suppliers.
This personalized touch ensures that businesses save time and resources in the sourcing process. Another valuable feature is the "Product Alert" service. Companies and individuals can subscribe to specific product categories and receive notifications whenever there are new listings or updates.
In that matter, it ensures that businesses can keep up with the competition and never miss out on potential opportunities.
10. ThomasNet: The North American Nexus
It is one of the most popular platforms in the B2B industry, especially in the US. That is not a surprise considering over a century of experience connecting buyers and suppliers. It covers a wide range of industries, from aerospace to pharmaceuticals.
ThomasNet's strength lies in its detailed supplier profiles. Businesses can access a wealth of information, from company history to certifications, ensuring that they make informed decisions. The platform's emphasis on transparency and reliability makes it a trusted partner for businesses looking to source products in North America.
Moreover, with its rich history and industry expertise, ThomasNet offers insights, news, and resources, helping businesses stay updated with the latest industry trends.
CAD Catalog
The CAD catalog allows businesses to access and download 3D models and 2D drawings of products. This is particularly beneficial for industries like engineering, construction, and design, where detailed product specifications are crucial.
There is also the "Custom Quotes" service, where businesses can get tailored quotes from suppliers based on their specific requirements. This ensures a seamless and efficient sourcing process, tailored to the unique needs of each business.
11. ExportHub: The Emerging Star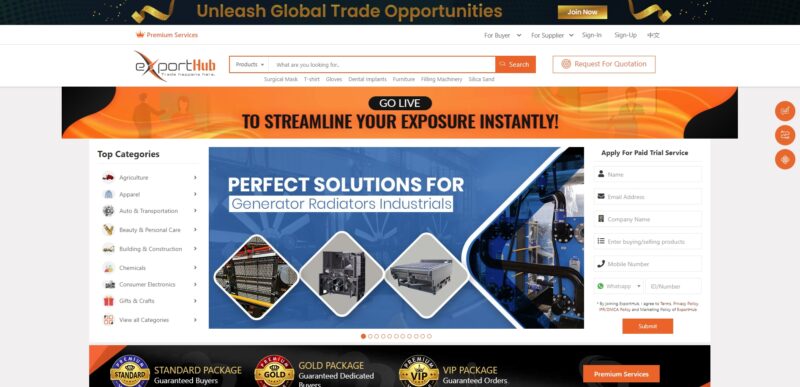 With its innovative approach to B2B networking, it is quickly making a mark in the global B2B landscape. The platform connects businesses with suppliers, manufacturers, and exporters from various parts of the world.
ExportHub is known for its focus on quality and reliability. The platform's verification process ensures that only genuine and credible suppliers are listed. This reduces the risk for businesses and ensures a smooth sourcing experience.
Moreover, with its intuitive search functionality and detailed product listings, businesses can easily find products that align with their requirements and specifications.
Buyer Consultation
Recognizing the challenges businesses face in the sourcing process, ExportHub offers a unique "Buyer Consultation" service. With this service, businesses can consult with ExportHub's team of experts to streamline their sourcing process.
Whether it's finding the right supplier, negotiating prices, or understanding market dynamics, the platform's team offers guidance at every step.
How to Make the Right Choice?
When selecting the ideal B2B wholesale marketplace platform, several key factors can help you make the right decision.
Relevance to Your Industry
Platforms tailored to your specific sector or those with a strong presence in your industry can provide more specialized solutions.
For example, businesses in the electronics sector might benefit from platforms renowned for electronics suppliers, ensuring they have access to cutting-edge products and technologies.
Platform's Credibility and Security Measures
Engaging in international trade is a significant commitment. Platforms should offer robust payment protection, a rigorous supplier verification process, and a transparent dispute resolution mechanism.
These features ensure businesses can trade with confidence and security.
User Experience and Support Services
A platform with a user-friendly interface and efficient search functionalities can significantly streamline the sourcing process.
Real-time customer support, comprehensive FAQs, and consultation services further aid businesses in making well-informed decisions.
Price
While many platforms might offer free basic memberships, the associated costs for premium services, transaction fees, or additional features can differ.
Businesses should understand the platform's cost structure and evaluate the potential return on investment.
Frequently Asked Questions (FAQs):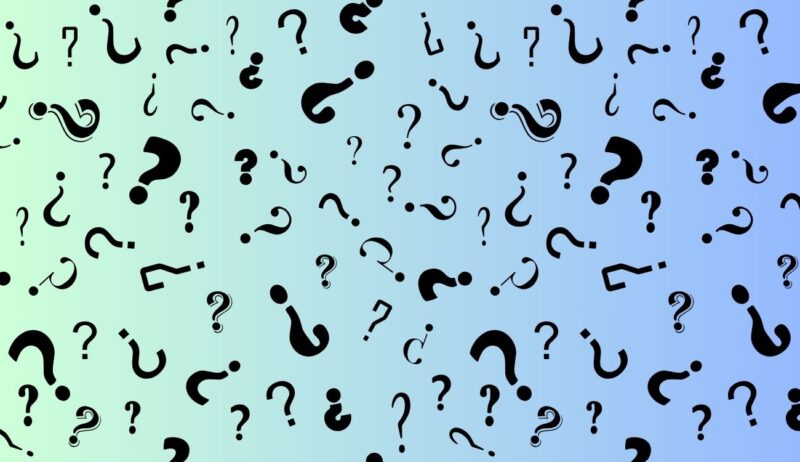 Are there any specific criteria to be listed as a supplier on these B2B platforms?
Yes, most B2B platforms have a verification process in place to ensure the credibility and authenticity of suppliers. The criteria might include business licenses, certifications, production capabilities, and past transaction records. However, the specific criteria can vary from one platform to another.
How do these platforms handle disputes between buyers and suppliers?
Many B2B platforms offer dispute resolution services. In case of disagreements or issues, both parties can raise a complaint, and the platform acts as a mediator to resolve the issue. Some platforms also offer trade assurance or buyer protection policies to safeguard the interests of the buyers.
Can businesses get samples before placing bulk orders on these platforms?
Most suppliers on these platforms are open to sending product samples to potential buyers. This allows businesses to assess the quality and suitability of products before placing a large order. However, it's essential to communicate directly with the supplier regarding samples, as there might be associated costs or terms.
How do these platforms ensure the quality of products listed by suppliers?
Many platforms have quality control measures in place. They might conduct on-site checks, verify certifications, or even gather feedback from buyers to assess a supplier's product quality. Some platforms also allow buyers to rate and review suppliers, providing a transparent system for new businesses to gauge product quality.
Summary
As you can see, there is a wide range of available solutions. However, it is important to check different details and make sure that the service can follow your needs and preferences. The key is to understand your business needs, do thorough research, and choose a platform that aligns with your goals.